Top 10 Paris Travel Guide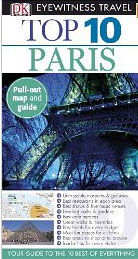 If you're planning a trip to Paris, you'll want to check out this handy travel guide – Top 10 Paris by Eyewitness Travel. It is ideal if you are planning a short trip to this beautiful romantic city. Instead of being overwhelmed at which sights you should go and see in only a few days, the book covers – as the name says – the Top 10 places to visit in Paris.
In addition, it gives you information on restaurants, shops, night life, galleries and other areas of interest. The size of the book is another great advantage – it easily fits into your purse or small bag. The included fold-out map is very useful as you explore the streets of Paris. The metro map allows you to criss-cross Paris safely without getting lost.
The "Streetsmart" section gives you answers to questions you might have, such as, how do I make a local phone call, which metro ticket to buy, etc.
Overall, this is a fun guidebook to carry with you on your visit to Paris. It is a scaled down version of usually quite heavy and detailed travel guides, but gives you enough information to keep you busy in this beautiful city. However, if you are looking for more detailed information about the history and architecture of sights, this might not be the book for you.
Click on the links below for more information on the Top 10 Paris travel guide. The links will take you directly to the product page.
Bigger Books (www.biggerbooks.com) – Dk Eyewitness Travel Top 10 Paris by Mike Gerrard
Amazon (www.Amazon.com) – Top 10 Paris Eyewitness Travel by Mike Gerrard
Presented by:
ThriveOnTravel.com
Sima Kimble