RV Vacations For Dummies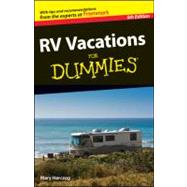 I love RVs. One of our planned trips is to drive across the state in an RV. The tricky part used to be getting the RV but now they are so easy to rent or buy, the hard part now is figuring out where to go. Perhaps you're in such a predicament. You want to travel from state to state in an RV and you find yourself at a lost for where to go. Your RV is gassed up and your family is screaming to get away from the hustle and bustle for a little while. Maybe you need to grab RV Vacations For Dummies, 5th Edition to help you figure it all out.
From the East Coast to the Oregon Coast, and Texas to the Tetons, North America is packed with fascinating vactioning destinations. An RV is a great way to travel to any one of them. RV Vacations For Dummies, 5th Edition is a fun, friendly guide that shows you how to get the most out of your RV vacations with fun itineraries and handy tips on:
• Choosing the right route and the right season for travel
• Picking the RV that will get you where you want to go on a budget you can afford
• Eating and sleeping comfortably on the road
• Tying up the loose ends before you leave
• Planning ahead to take care of special travel needs
• Tips on fun museums and special getaways for snowbirds
True to the tradition of every For Dummies travel guide, RV Vacations For Dummies, 5th Edition includes:
• Down-to-earth trip-planning advice
• What you shouldn't miss — and what you can skip
• The best restaurants and hotels for every budget
• Lots of detailed maps
So what are you waiting on? Get packed, grab this resource guide, and start driving.
Here are a couple of online places where you can get this book. These links will take you directly to the product page.
BiggerBooks – (www.biggerbooks.com) – RV Vacations For Dummies, 5th Edition
Amazon (www.Amazon.com) – RV Vacations For Dummies (Dummies Travel)
Presented by:
ThriveOnTravel.com
Sima Kimble