Egypt Eyewitness Travel Guide
When most people hear the word "Egypt", they think about pyramids, the Nile, markets with exotic spices and ancient history. I personally have never been there, but browsing through travel guides and looking at spectacular photographs makes me want to drop everything and go exploring. It's certainly at the top of my "must-see" places.
If you are planning a trip to Egypt, have a look at the Egypt Eyewitness Travel Guide. The book gives an introduction to the historical and cultural background of various areas in Egypt with the help of detailed maps, including: Cairo and surrounding areas, the Nile valley or The Delta and North Coast. Wherever in Egypt you choose to go, "Egypt (Eyewitness Travel Guide)" gives detailed information on each of the top sights you should not miss and other places you might choose to visit.
You can also read up on shopping and entertainment in Egypt, from restaurants to markets and nightlife. There's also the Traveler's Need and Survival Guide included in the book. Whether you are looking for places to stay or other practical tips, such as transportation, this section will help you to understand and answer some of the questions you may have. There is even a small section on Arabic phrases that might become handy on your travels.
Overall, if you are lucky enough to go to Egypt, "Egypt" by DK Publishing is a well-resourced travel guide to help you during your planning stage as well as during your stay in Egypt.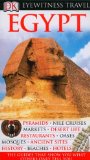 Click on the links below for more information. The links will take you directly to the product page.
BiggerBooks (BiggerBooks.com) – Eyewitness Travel Egypt by DK Publishing
Amazon (www.Amazon.com) – Egypt (Eyewitness Travel Guides) by DK Publishing
Presented by:
ThriveOnTravel.com
Sima Kimble