Traveling with Disabilities
Do you have a disability or are you traveling with someone who does? Traveling with a disability can be challenging, but it is not impossible. There are many accommodations in place for people traveling with disabilities. Here are some things to keep in mind that may help alleviate some of the stress of travel.
Guide dogs are welcome in just about any public place now as they are there to assist both the blind and the deaf. If you are unsure if a guide dog is allowed, call ahead and verify and also make arrangements if necessary. While it is not necessary to notify ahead, it will make the process much smoother if a manager knows that one will be entering the premises. This will also avoid any unnecessary fuss should an employee be unaware of the circumstances.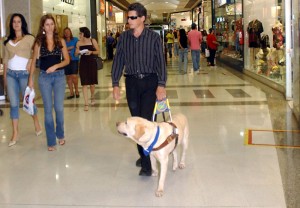 [Photo by Agencia Brasil. Some Rights Reserved. See Licensing Terms.]
Hotels typically allow dogs to stay with no extra charge if they are providing a service to a person with a disability. Certification is required to avoid the extra pet fee, but will be honored by most places. Planes allow dogs with proper identification and arrangements. Small dogs can travel with the owner while bigger dogs may have to be relocated for the flight.
Deaf people may need more assistance when traveling, especially if they need to be aware of certain announcements. Utilizing the help of an airline agent at the airport will help to make certain that boarding information is relayed properly. Some locations may also have a sign language interpreter available upon request. Assisted hearing devices are widely available to help those with a slight hearing loss who simply need amplification. Be sure to let a manager or agent know if you are traveling deaf, as they will be able to make accommodations to suit your needs.
Wheelchairs are allowed in every location and some places offer them for rent if you are unable to bring your own. Passengers in wheelchairs will be allowed to board transportation first while their equipment will be stored in the cargo hold of the plane for access immediately upon landing. Traveling with a wheelchair should not prove to be too difficult as long as accommodations are available. Elevators should be used instead of stairs and oftentimes, a special key will be given for priority use of the elevators if they are not readily available.
Being disabled is no reason not to travel. It can make traveling more difficult, but not impossible. Guide dogs are allowed in virtually every place that you can fathom as long as they have proper identification. Furthermore, most hotels will allow the service dog to stay free of charge with proper paperwork. Travelers with hearing impairments must let an agent know if they need special assistance, especially if they are traveling solo. Wheelchairs are accepted everywhere and many times special seating arrangements are made for those who are mobility disabled.
Plan ahead, make the necessary arrangements and enjoy your trip!
Presented by:
ThriveOnTravel.com
Sima Kimble