Family Fun Time at Sea World in San Diego, CA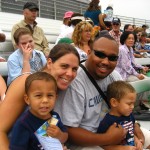 Sea World in San Diego, CA is a fun place to take your family on vacation. In fact, it's a must see for people of all ages. There are few places in the world where you can get a first-hand look at killer whales, dolphins, stingrays, polar bears, and sharks all in one place. Not to mention having the opportunity to interact with some of them!
Sea World is a theme park designed for marine animals. It's a mixture of shows, exhibits, and animal interactions. There are a few amusement rides but these are not the primary focus in the park. This place is all about the animals.
I recently visited Sea World in San Diego, CA in July 2010 and boy did I have a BLAST! Here's a summary of some of my favorite shows and activities you can enjoy when visiting the park.
The Shamu Show Believe
This show is spectacular and not because of lights, or pyrotechnics, or fancy gimmicks but simply because of the killer whales. You will be in awe of these powerful mammals and quickly feel a sense of humility and deep respect. There I was sitting in the Shamu Stadium giddy with delight as these enormous yet graceful animals executed jumps, spins, and flips beautifully and effortlessly. No matter how old you are, you cannot sit and watch these animals without being affected in some way. There are only a few shows each day so plan accordingly so you can catch one.
Blue Horizon's Dolphin Show
The new dolphin show at Sea World is performed on a brand new colorful stage. You'll get to see dolphins, exotic birds, and some pretty cool acrobatics.
Sea Lion Live
This show is just plain fun. Watch the sea lions and otters act out their parts with their trainers and other animals. There are a few surprises along the way and lots of laughs.
Cirque de la Mer
Cirque du Soleil and Sea World have teamed up and created the Cirque de la Mer show. In pure Cirque du Soleil fashion, this show delivers humor, thrills, and amazement. Spectators will not be disappointed accept to maybe wish the show was longer.
Sesame Street Bay of Play
This is one of those places that makes me wish I was a kid again. Kids can spend hours here. There are a few rides, some water barrels launching streams of water, and a huge playground with things to climb, bump, and bounce on. I had a good time watching my nephews run through the water giggling and dancing about. Bring extra clothes and possibly bathing suits in case your kids get wet.
Forbidden Reef – Bat Ray Feeding
I'm not good at touching slimy albeit smooth things but I did really enjoy the bat rays. It fascinated me to see these animals up close and personal and to watch other people touching and interacting with them. And yes, I did touch one for about half a second with the tip of one finger before jumping back and squealing. But hey, it was good fun and if you enjoy this type of animal interaction, stop by and feed the bat rays.
Wild Arctic
How would you like to stumble upon a sleeping polar bear mere inches from you? That's exactly what happened to me when I innocently peeped through the square glass window wondering what all the fuss was about. I jumped back and was suddenly grateful for the glass separating us but oh, how beautiful that polar bear was and oh, how it could eat me. I've never been that close to a polar bear before, for obvious reasons, and I loved every shocking minute of it. The polar bear is just one part of this must experience exhibit.
These are a small sampling of shows and exhibits at Sea World. There's so much to see and do – it's a full day of fun. For more detailed information on the park you can visit the official Seaworld.com website.
Here are some tips to keep in mind –
When you visit the park, remember to wear a hat and bring some sunscreen. Be prepared to reapply the sunscreen in case you get wet and it washes off. Wear comfortable shoes because you'll be doing a lot of walking. On especially hot days, drink plenty of fluids to stay hydrated, preferably water.
The park has good food but if you're on a budget, bring your own. There are lockers to store your food and you can find places to sit and eat.
The park maps have showtime listings on the back. Grab a park map and carry it with you so can plan your day accordingly and be on time to the shows.
There is plenty of stroller parking throughout the park and people don't generally take strollers or steal belongings but with all things, use caution. Don't leave valuables in a stroller unattended.
Oftentimes you'll encounter lines and crowds of people but be patient and respectful and you'll have a great time.
ThriveonTravel.com
Sima Kimble