Experience the Beauty and Wonder of the California Coast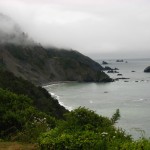 California possesses one of the most beautiful coastlines in the world stretching some 1100 miles. It's drawn millions of travelers and inspired dozens of books each describing different ways to experience the coast and no wonder – with the jaw-dropping views of the Pacific Ocean, the majestic mountains and steep cliffs that define its boundaries, and the huge Redwood trees towering overhead it's hard to resist. Even the toughest critics will find themselves mesmerized.
There's something deeply stirring about standing on the edge of a cliff staring out at the vast Pacific Ocean, feeling the wind pushing past you, and hearing the crashing waves below. My husband and I were recently fortunate enough to experience this sensation at countless spots along the coast. We took a round trip coastal drive from the bottom of California to the top and into parts of Oregon. We stopped along the way to visit family and in total our trip took 11 days. We attempted to see and do as much as we possibly could but there was still so much more we missed.
Here are some highlights from our trip (things to see, do, and eat) that may help give you some ideas for your next vacation. To get more ideas and in-depth information on the California Coast, check out the Coastal California guide book by Lonely Planet
. We added a lot of sights and activities to our agenda that were outlined in this book.
Carlsbad, CA
If you're looking for the beach atmosphere that's young and hip but still family oriented, check out Carlsbad, CA. There are a lot of beach activities as well as shopping and fine dining. Speaking of dining, grab some Mexican food at Fidel's. Our service was just okay but the food was fast and quite good. I recommend the fried pinto beans.
Marin County, CA (North of San Francisco,CA)
There's so much to see in Marin County but a few sights we especially enjoyed are the Marine Mammal Center, Muir Beach Overlook, Point Reyes National Seashore, Point Reyes Lighthouse, and the Earthquake walk. There are some really amazing views in this area and if you're interested in marine animal rescue or marine biology, check out the Marine Mammal Center. There are tours of the facility and all of the employees are extremely knowledgeable.
If you like frozen yogurt, you should try the 'yogen fruz' frozen yogurt shop in Novato. We had to make a special stop on the way home just for this frozen yogurt.
Healdsburg, CA
Healdsburg is such a pretty town. It's got a very relaxed, comfortable feel to it. There are specialty shops, restaurants, wine tasting rooms, bookstores, coffee houses and more lining the downtown streets. Stop in at Copperfield's Books and enjoy a bite at the Bovolo restaurant. Unfortunately, it was closed and we were unable to eat there but I've heard great reviews. We ate at the Baci Cafe & Wine Bar. It has a relaxing ambiance, excellent service and delicious food.
Leggett, CA
Have you ever driven through a tree before? Well, then – here's your chance. Visit the Chandelier Drive-Thru Tree Park and drive through the Chandelier tree. It's 315ft tall and over 2000 years old. If you're driving a mid-size SUV or larger I suggest checking to see if your side view mirrors fold inward. It can get a little tight. Be sure to take a picture going through the first time as it's a one way road.
Klamath, CA
Visit the Trees of Mystery and say hello to Paul Bunyan and his blue ox, Babe. Take the gondola ride up to the top of the trees and look out at the views. If you're a strong hiker, hike the hill down but beware, there are about 6 steep 45 degree inclines. Many have reached the exit with scraped elbows and knees. Take a live souvenir home with you – a redwood tree or burl.
Jedidiah Smith State Redwoods Park (10 miles North of Crescent City, CA)
This is the northern most redwood park and it is filled with some of the most magnificent redwood giants. Take one of the hiking trails to get a true sense of how big these trees are. Perhaps you'll find the area looks familiar. The Endor scenes for Star Wars "Return of the Jedi" were filmed in the park. Think ewoks.
I could go on and on and still just touch the surface. If you're considering a California vacation, I recommend taking time out to enjoy the coastline even if you can only visit parts of it. You won't regret it.
ThriveOnTravel.com
Sima Kimble