I Never Travel without my Eagle Creek Travel Bug Daypack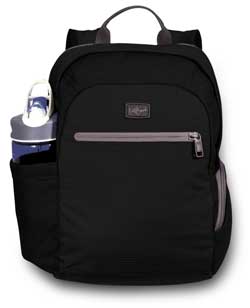 When I start packing for a trip whether near or far, there's one item that tops the list every time and that's my Eagle Creek Travel Bug Daypack. I've tried different packs before but this one is my favorite. Here's why – security is a big deal for me. I've traveled in areas where pick pockets receive formal training and are awarded prizes for the most stolen goods. All kidding aside, it's important for me to keep my most valuable items secure especially in high theft areas.
One of the benefits of carrying a backpack is its easy accessibility to the items inside, wherein lies the challenge of wearing one while traveling. However, the Eagle Creek Travel Bug Daypack does a nice job of addressing this issue by providing a deep zippered pocket that can only be accessed when the pack is off the wearer's back. So while carrying the pack, the most sensitive items are kept up against the back making it nearly impossible to get to them without first removing the pack. This means that I can put my passport, money, credit cards, lip gloss (hey, this is valuable) in this pocket and not worry about them. Great idea – thanks, Eagle Creek!
And I'm just getting started. The secure zippered pocket is just one of the many benefits of this pack. I'll try to sum up a few additional bonuses here. First of all, my pack is a few years old and it's gotten A LOT of wear but it still looks good. The zippers work great, and there are no tears, rips, or holes. The material inside and out is pretty sturdy including the elastic for the water bottle pocket. In the new model, there are additional security features like the toggle zip closure for the main pocket that makes unzipping the pack a little more difficult.  It also includes a fleece-lined eyeglass pocket and an audio port for an iPOD.
It has a loop for carrying the daypack by hand and breathable shoulder straps that are both comfortable and easy to adjust. The daypack is small and lightweight and when empty, can be easily rolled or folded to fit inside another bag. Oh, and did I mention the pretty colors?
As with all things, there are a few drawbacks but I really had to think hard to come up these. The daypack is not water-proof and if it comes into contact with water, items inside may get wet but the pack does dry quickly depending on the amount of water. Because of it's size, I'm able to wear it under my raincoat if I'm out when it's raining.
The water bottle pocket fits most but not all water bottle sizes. I've been able to fit 1 liter or 32oz size bottles in it but it all depends on the size and shape of the bottle.
Finally, the Travel Bug Daypack is smaller than the average backpack so there is a limit to how much you can carry. While you may not be able to fit the lastest Robert Ludlum hardcover novel in it, I have been able to fit small paperback novels, notebooks, phone, camera,  iPOD, scarf, mittens and more in it all at one time.
All in all, if you're looking for a good daypack, the Eagle Creek Travel Bug Daypack is worth checking out. Here are a couple of places you can get it –
eBags – www.ebags.com
– eBags carries the Travel Bug Daypack in Cayenne/Coffee as well as Black. This is a great color if you want something other than Black. Ebags has a price guarantee and a free returns policy so it's a great place to shop for bags online.
Amazon – Eagle Creek Travel Bug Mini Backpack RFID, Black, One Size
– You can sometimes get the best prices on Amazon so it's worth checking out.
If you have any questions about this daypack, feel free to comment. I look forward to hearing from you!
ThriveOnTravel.com
Sima Kimble