The Sherpani Zoe Shoulder Wallet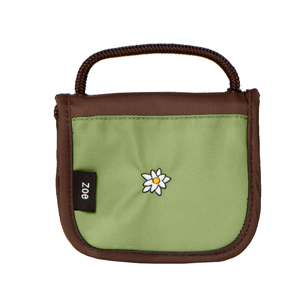 I don't know what it is about Sherpani but there is this camaraderie among women who own Sherpani bags. Purchasing a bag is like joining a club of excited, enthusiastic women. I recently ran into a woman at Crater Lake in Oregon this past summer who was wearing a Zoe shoulder wallet. I quickly pulled out my Zoe wallet and we started talking about Sherpani bags. We had a nice conversation that eventually also included Crater Lake. This is not an isolated event. It's happened to me before. Women are generally happy to talk about their Sherpani bag, myself included.
I own the black Zoe shoulder wallet and I've been using it as my primary wallet for 4 years now. You wouldn't know it by looking at it. The wallet has held up exceptionally well. Plus, the black color is a big help hiding dirt. I initially thought I'd use it until it died and then buy another one with a different color. Now, I realize I'm just going to have to buy another one. There's no telling when it's going to retire.
If you're looking for a compact wallet that's versatile, durable, and long lasting you may want to check out the Zoe. Here are some things I like and dislike about it.
The Zoe shoulder wallet fits in almost any bag and I've used bags of all shapes and sizes from small handbags, to briefcases, to duffel bags. You'll have trouble with really small bags like wristlets but I always figure that those aren't really meant to carry wallets.
One of my favorite features about this bag is that I can tuck the shoulder cord/strap in the wallet and carry it inside another bag or I can pull the cord/strap out and wear it across my body. I cannot tell you how many times this has come in handy. I generally take larger bags to work and I can take the Zoe wallet with me when I want to take a short walk or go out to lunch as opposed to lugging the entire bag around. I can throw it over my shoulder and still have hands to carry what I need. I have a 2009 Motorola Droid that's just over 1/2 inch thick with the cover on and approximately 4.5 inches by 2.5 inches and I can zip it inside the wallet with no problems. If I'm not taking my phone, I can fit a small hand sanitizer (I'm slightly germaphobic) and a small tube of lotion or lip gloss. I generally don't keep much change in my wallet so I that gives me a little more space in the wallet.
The wallet strap is more like a cord and it's comfortable for me. I've never had a problem with it. Most times I don't notice it when I'm wearing it. The cord is well-made and durable. There's never been a hint of unraveling.
One thing I don't like is the location of the change compartment. It's difficult to get change in and out of the zippered change pocket without the bill compartment gaping open. I don't like for people to be able to see what I've got in my wallet so that's an issue for me. To compensate I either angle the wallet toward me which can be difficult or like I said earlier, I don't carry change in the wallet. I usually keep my change somewhere else.
There are only a few places to keep cards which can be a negative if you keep lots of cards in your wallet. And there's no photo book. You can still slip pictures in the wallet but if you're used to carrying a full photo album with you there won't be room for that.
Overall, the Zoe shoulder wallet is a great bag. With it being small and doubling as a wallet or purse, it's perfect for travel or everyday use. It's lightweight, durable, stylish, and fun.
For more information or to purchase the Zoe shoulder wallet, click on the link below to visit Sherpani's website.
Sherpani Zoe Shoulder Wallet (www.sherpani.com)
You can also find the Zoe shoulder wallet on Amazon but be sure to check out Sherpani's website. Sherpani often has great sales and promotions with free shipping so you may get a better price. Click below to see the Sherpani Zoe Shoulder Wallet at Amazon.com
Sherpani Zoe Shoulder Wallet
(www.Amazon.com)
ThriveOnTravel.com
Sima Kimble