Traveling by Air? Protect your Luggage with One of These!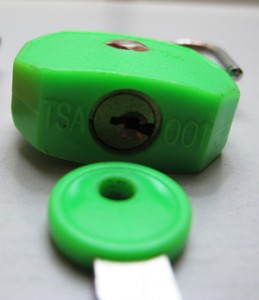 We live in the glorious age of technology. We have access to the Internet and social networking sites such as Twitter, Facebook and MySpace. We can find information on the Internet using search engines such as Google, Yahoo or MSN. Yes, anyone who has access to a computer can MapQuest their way to whatever knowledge they are seeking to find.
However, in this age of enlightenment where all things are fast, faster and fastest, there seems to be one item that a lot of people have missed. I'm talking about something I think experienced and seasoned travelers ought to know and it is this – the fact that a traveler can lock their luggage when flying by air.
What, you say? Surely she does not know what she is talking about. But I do. Let me explain it to you and you can see what a wonderful concept this is.
Ever since the unfortunate circumstances of 9/11 and the birth of the National Transportation Agency (TSA), we are all quite accustomed to our person and our personals being searched, scanned and screened. A traveler is now being conditioned to take only so much gel, liquid and toiletries if you want to have your suitcase fly in the same compartment with you. But did you know you can lock that luggage with real honest to goodness locks?
The TSA has graciously approved locks for your luggage. These are genuine locks. They can be purchased at most stores and come in a variety of colors and sizes. The nice part is if you buy the lime green lock you get two lime green keys with it. I really do like my pink locks. When my bags come off the plane I can always locate my suitcase because of the green or pink locks on them.
I have been traveling with these locks for about 5 years now. How can you do this, you ask? Well, since they are TSA approved, TSA has the master locks and can open and search your luggage to their hearts content. And I assure you, they will most likely search it. I cannot tell you how many times I have had the notification that my luggage was searched. After they search it, they will re-lock your luggage (or at least they are supposed to). So if you tell the agent your bag is locked but the locks are TSA approved, they will keep your luggage locked for you. Neat huh?
I recently came back from a trip to Tucson, Arizona. When I told the agent that my locked bag had TSA approved locks on them, the nice man standing next to me said, "Did I just hear you say your bags were locked?" I said "Yes" and he said "How?" I replied, "They are TSA approved locks." He looked at me with this blank look on his face and there and then I realized that a lot of people have no idea they can lock their luggage.
So I thought it would be a nice piece of information to share with my fellow travelers who like to have their luggage locked. If you are old fashioned like I am and used to traveling with a locked bag, you can do so again. There are some pictures of the locks I use attached to this article. Please take a look at them and if you desire to lock your luggage you can once again do so with a TSA approved lock.
Happy Traveling
Joanne Griffin
Joanne Griffin is an at-will adventurous traveler. At the drop of a dime she can be found in Japan, Mexico, Hawaii, Canada, Europe or in the Caribbean Islands. She is the happy mother of three great children and will be teaching English abroad in the near future.
Below are a few of the main types of locks and their pros and cons:
Key Locks
Key locks are locks that require a key to open them.
Pros: Because key locks use a key, you don't have to remember any number or letter combinations. They are easy to use and easy to open.
Cons: If you lose the key, you have to cut the lock off to open your bag. Key locks usually come with two keys. Never keep both keys together so that if you lose one, you can hopefully get to the other.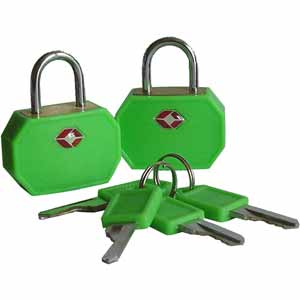 Passage2 Passage2 TSA Approved Key Locks (Set of 2) 6009 at Luggageguru.com
Combination locks
Combination locks are locks that you open with a number or letter combination that you set.
Pros: You don't have to carry a key that may get lost. You can choose a lock with numbers or letters and set your own combination.
Cons: You have to remember the combination or you won't be able to open your lock. If you have trouble setting or remembering your combination, this may not be the best option.


Lewis N. Clark TSA 3-dial Combo Lock/2 pack Black – Travel Locks at Ebags.com

WordLock(r) Combination Locks use Letters instead of Numbers at Magellans.com
Key Card Locks
Card locks require a special card with a unique pattern of holes that opens the lock.
Pros: Like key locks, these locks do not require a combination. The card can be placed in your wallet which may be a better option for some. They are fairly easy to use.
Cons: Also like key locks, if you lose the card you will have to cut the lock off to open your bag. Cards may be damaged more easily than keys so you want to be careful not be bend or crack them.

Magellan's Clikcard Travel Locks 3 Pack at Magellans.com
Presented by:
ThriveOnTravel.com
Sima Kimble