Spring Break, California Style
Spring break is here and it's time to get away, have fun, and relax. If you're looking for more of a city adventure this year, consider one along the California Coast. For an affordable and fun-filled Spring Break vacation, San Francisco is calling you home.
[Photo Courtesy of PDPhoto.org]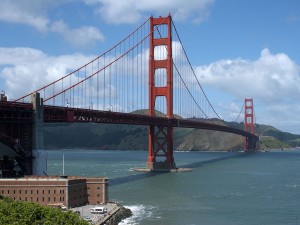 The beauty of San Francisco – besides its cable cars, shops, restaurants, tours, and entertainment – is that unlike Los Angeles, you don't need a car. You can walk or take the cable cars to the many well-known areas of San Francisco.
These include Fisherman's Wharf, Ghirardelli Square (mmmmm……chocolates!), the Crookedest Street in the World (Lombard Street), Coit Tower, Alcatraz, and the Golden Gate Bridge. The city is filled with people of different cultures and backgrounds.
Stay at a Union Square hotel located in the heart of San Francisco. You'll be close to the Powell Street cable car line and the Moscone Convention Center. In addition, most hotels here offer fine accommodations starting at $100 per room per night. If you are traveling with friends, this will more than meet your budget.
Or you can stay at a hotel at Fisherman's Wharf. Most of these hotels overlook the waterfront and the Bay is across the street. Most hotels here also offer heated pools and a fitness center.
Also check out Pier 39, which is a block away from the Wharf. The Aquarium of the Bay is here and is the departure point for many ferry cruises to such places as Alcatraz and Sausalito.
If you have time and can rent a car, take a day trip to Sausalito, just over the Bay. It is a beautiful little town with great restaurants and art galleries. Other areas of interest include Golden Gate Park which hosts the famous Japanese Tea Garden, North Beach which is famous for its Italian cuisine, to name a few.
There is so much to do in San Francisco that a week may not be enough to fully appreciate everything it has to offer. But college students will nonetheless love this City by the Bay, regardless of how long they stay.
Presented by:
ThriveOnTravel.com
Sima Kimble