Where to Ski Thanksgiving Weekend
It's that time again! Time to wipe the dust off the skis and snowboards and get back on the mountain. The ski season is just getting underway by Thanksgiving weekend. Some resorts open in October. Here are some of the best places to go for a Thanksgiving weekend ski trip.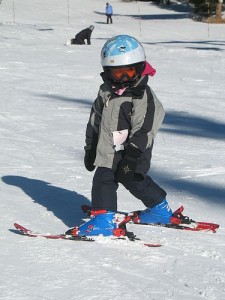 [Photo by s_mestdagh. Some Rights Reserved. See Licensing Terms.]
Wolf Creek, Colorado
Thanksgiving weekend is the opening weekend at Wolf Creek resort. It has three chairlifts, and offers great place for beginners through advanced skiers and snowboarders. Night skiing at Wolf Creek is considered the largest in Utah, as the entire mountain is lit. With a focus on fun for families, it offers children's programs for children ages three and up. The Wolf Pup Center has snacks and ski lessons for little ones.
Lodging at Wolf Creek is offered on the East side and on the West side of the mountain. The number of lodges is extensive, so the West side accommodations are under the heading of South Fork and Creede, and the East side lodgings are under the heading Pagosa Springs.
Reno and Lake Tahoe, Nevada and California
The Reno area is home to some excellent skiing. Alpine Meadows, Boreal, Diamond Peak, Sugar Bowl, and Squaw Valley are just some of the better-known resorts in the area.
* Alpine Meadows has skiing and snowboard lessons for children and adults. There is also an Adaptive Ski School for those with mental and physical challenges. There is a rental shop and restaurant, as well as a cafeteria and bar. There is even a deli for quick lunches.
* Boreal opens in October. Snowmaking has begun in Boreal to enhance the natural snowfall and with improved lighting, conditions are more conducive to night skiing and riding. It is a family-oriented resort and they offer family lessons. They also offer tubing in addition to its other family fun snow activities.
* Diamond Peak is located in the Incline Village of Lake Tahoe. Gentle slopes and first-time lessons make this a good choice for new skiers or for a first family ski trip. They even have a slope for children as young as three.
* Sugar Bowl has been in operation for over 70 years. It has indoor and outdoor dining, and thirteen ski lifts. Another family-oriented resort, Sugar Bowl offers family programs and children's activities. It is actually located in California, but is still in the Reno/Lake Tahoe region.
* Squaw Valley is also located in California and opens in November. It offers lessons for children as young as three, and has activities for non-skiers such as ice skating, riding in the scenic Cable Car, or climbing the Headwall Climbing Wall. Squaw Valley boasts sun decks and outdoor dining. There are parades, concerts, and other events held here.
Wherever you decide to go, have a fun and safe trip on the mountains this Thanksgiving. Let the ski season begin!
Presented by:
ThriveOnTravel.com
Sima Kimble